Whether volunteering, donating to a favorite nonprofit, or doing a random act of kindness, Giving Tuesday is an opportunity to help others
Columbus, OH (November 27, 2016)—The Columbus Foundation is encouraging acts of kindness in many forms for Giving Tuesday on November 29. Giving Tuesday is an opportunity to help others and make a difference in central Ohio. It was created in 2012 as a global day to give back and show generosity following the hustle and bustle of Black Friday and Cyber Monday.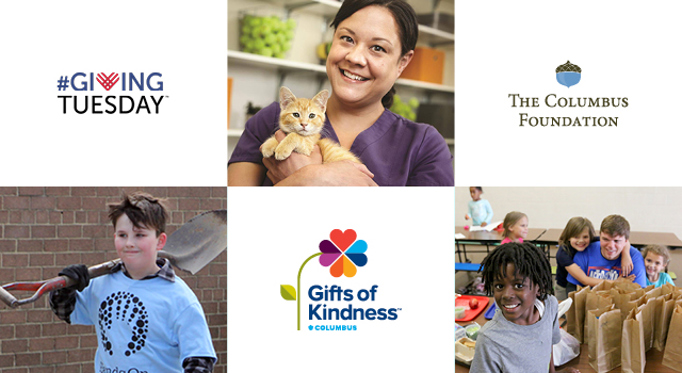 The Foundation offers easy and effective ways to give or help others on Giving Tuesday and is celebrating kindness with the following rewards:
Anyone who makes a gift of $20 or more to the Gifts of Kindness Fund will receive a $20 Charitable Gift Card to support one of 600+ local nonprofits in PowerPhilanthropy® to use or pass along to a friend or family member. The Gifts of Kindness Fund provides one-time emergency grants through partner nonprofits to help lift up individuals and families who experience an unexpected setback.
Anyone who shares their act of kindness on social media using the hashtag #GiveKindnessColumbus (on Twitter, Instagram, or Facebook) through Giving Tuesday will be entered in a random drawing to select a local nonprofit to receive a $500 grant from the Foundation. Ten $500 winners will be chosen at random throughout the day on Giving Tuesday.
"We have easy ways for everyone to express and share kindness on Giving Tuesday and throughout the season," said Douglas F. Kridler, President and CEO of The Columbus Foundation. "At this special time of year, we are excited about all acts of kindness and how our collective actions can strengthen our remarkable community."
For more information, visit Giving Tuesday at columbusfoundation.org.
---
About The Columbus Foundation
The Columbus Foundation is the trusted philanthropic advisor® to 2,500 individuals, families, and businesses who have created charitable funds and planned gifts to make a difference in the lives of others through the most effective philanthropy possible. Serving the region for more than 70 years, The Columbus Foundation ranks among the top 10 community foundations in the United States. The Foundation's online marketplace, PowerPhilanthropy®, makes giving easy, mobile, and smart. For information, visit columbusfoundation.org.
---
About Charitable Gift Cards
Charitable Gifts Cards offer an opportunity to give the gift of giving. Gift card recipients are able to make a donation to one of 600 local nonprofits featured in PowerPhilanthropy®, the Foundation's online marketplace. Both physical and electronic gifts cards are available in denominations of $20, $50, and $100. The cards never expire and 100 percent goes to the recipient's nonprofit of choice. Visit tcfgiftcardpurchase.org.
---
About Giving Tuesday
Created by the 92nd Street Y―a cultural center in New York City, which since 1874, has been bringing people together around the values of service and giving back, #GivingTuesday connects diverse groups of individuals, communities and organizations around the word for one common purpose: to celebrate and encourage giving. A team of influencers and founding partners join forces―collaborating across sectors, offering expertise, working tirelessly—to launch #Giving Tuesday and have continued to shape, grow, and strengthen the movement. Visit givingtuesday.org.