Each year, during its Celebration of Philanthropy, The Columbus Foundation recognizes donors, nonprofit organizations, and individuals for their inspiring and impactful service to others. Last week, The Columbus Foundation welcomed donors, nonprofit leaders, and community members to celebrate the honorees of the 2023 Philanthropy Awards. Through their generosity, each of this year's honorees is making a lasting difference in the lives of individuals in our region and around the world.
---
2023 Harrison M. Sayre Award Honorees, Renée and Dwight Smith
Given in honor of Harrison M. Sayre, The Columbus Foundation's founder and 25-year volunteer director, The Harrison M. Sayre Award recognizes leadership in philanthropy in central Ohio. This year's award was presented to Renée and Dwight Smith, who have given generously of their time, talent, and treasure to the central Ohio community and beyond.
Guided by their faith, the couple says that giving back to the community and inspiring others to be generous is a true blessing. Watch our recent conversation with Renée and Dwight to hear more about their approach to philanthropy and how My Special Word, a nonprofit the Smiths started together, is empowering youth throughout the world to reach their greatest potential.
2023 Columbus Foundation Award Honoree, Jewish Family Services
Created in 1986, The Columbus Foundation Award recognizes organizations that have made a difference in the quality of life in our community. The 2023 Columbus Foundation Award was presented to Jewish Family Services in recognition of the vital role the organization plays in bringing stability to immigrants, refugees, older adults, job seekers, and others in our community.
The Columbus Foundation sat down with Karen Mozenter, CEO of Jewish Family Services, for a conversation about the organization's longevity and how its vast programs and services benefit our community.  
2023 Acorn Award Honoree, Frontline Medical Ukraine Fund
The Acorn Award recognizes a Columbus Foundation fund that displays a generous spirit of giving and inspires others while supporting community. This year's honoree of the Acorn Award is the Frontline Medical Ukraine Fund. Through this fund, U.S. Army Brigadier General Mark Arnold (Ret.) is rallying support for organizations and operations that help avoid preventable deaths of Ukrainians injured on the frontlines—a truly extraordinary, life-saving mission.
In a recent Q&A with The Columbus Foundation, General Arnold shared more about his experiences volunteering in Ukraine and what motivated him to create the Frontline Medical Ukraine Fund.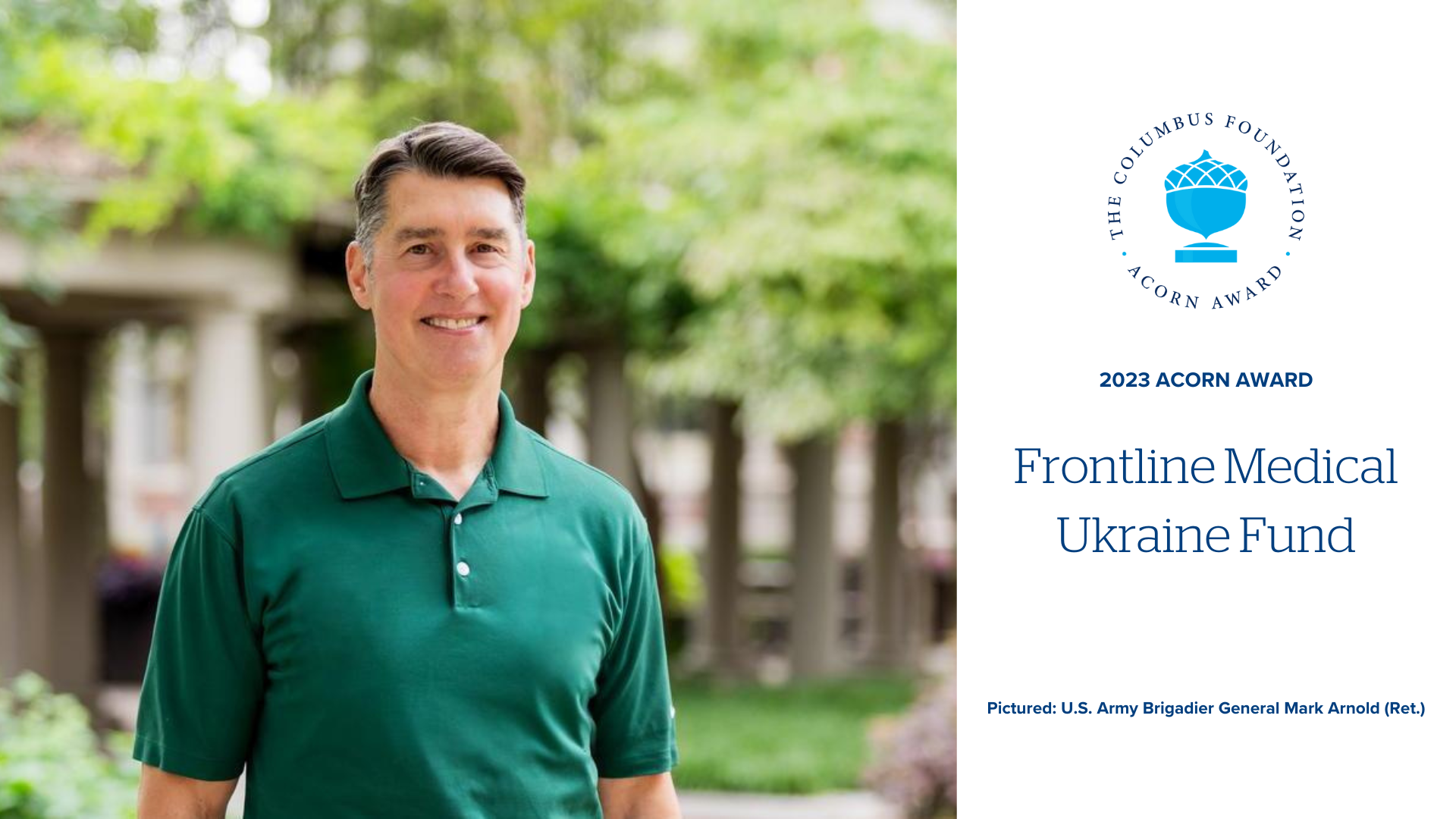 Click the image above to learn more about the life-saving work of the 2023 Acorn Award honoree Frontline Medical Ukraine Fund from the Story of Impact.
To learn more about The Columbus Foundation's Philanthropy Awards, including past honorees, click here.