Bertley recognized for commitment to science literacy and education equity
Columbus, OH (April 17, 2023)—The Columbus Foundation today announced Frederic Bertley, PhD, President and CEO of the Center of Science and Industry (COSI), as the 2023 honoree of The Spirit of Columbus® Award. Created in 2013 in honor of Jerrie Mock, the first woman to fly solo around the world, the award, also known as the Jerries®, celebrates those in our community who exhibit bravery, determination, and boldness through their actions.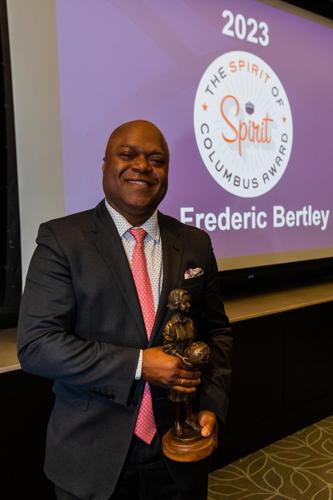 2023 Spirit of Columbus Award Honoree Dr. Frederic Bertley.
Dr. Bertley was selected in recognition of his commitment to central Ohio in the areas of science literacy, education equity, and the workforce pipeline. Through his leadership, Dr. Bertley has inspired young learners to be curious about the fields of science, technology, engineering, and math (STEM), forged new partnerships with community organizations, and elevated COSI to national recognition as the #1 Science Museum in the country for four consecutive years by USA Today's 10Best Readers' Choice Poll. Additionally, COSI was recently named a finalist for the 2023 National Medal for Museum and Library Service. Dr. Bertley's work has uplifted countless individuals and communities and led COSI to embrace the philosophy that "science is everywhere and for everyone."
During the pandemic, Dr. Bertley also used his voice and expertise as an immunologist to inform the community about vaccines and the disproportionately negative impact of COVID-19 on underserved communities.
"Being named the 2023 Spirit of Columbus laureate, in honor of the great, unprecedented, pioneer aviator, Jerrie Mock, is indeed an incomparable recognition. Joining the distinguished class of transformative, previous award winners has me fraught with excitement, humility and gratitude. I thank The Columbus Foundation for this truly inspirational and meaningful honor."

Dr. Frederic Bertley, President and CEO of COSI
"Like Jerrie Mock, Dr. Bertley exemplifies community spirit, innovation, and leadership in action," said Douglas F. Kridler, President and CEO of The Columbus Foundation. "His boundless creativity, unwavering resolve, and generous acts of service have inspired youth and families in our community and beyond to dream big about the future."
In addition to his role as a scientist and science educator, Dr. Bertley is a seven-time EMMY™ Award winner and serves on numerous nonprofit boards. He has received many honors, including being named Columbus CEO Magazine's CEO of the Year and Columbus Business First's Most Admired CEO. In 2015, Dr. Bertley was inducted into the National Library of Congress.
Stephen White, Esq., Chief Strategy Officer, Vice President of Partnerships and Business Development at COSI, said Dr. Bertley is a mentor and role model to many.
"I have witnessed firsthand Dr. Bertley's unflinching resolve to provide inspiration and opportunity to others through acts of kindness to countless families, youth, mothers, fathers, students, and more," said White. "On a daily basis, through his inherent personality, Dr. Bertley brings people together from diverse backgrounds to build a better community and advance equity."
As this year's honoree, Dr. Bertley will be honored on a wall installation at The Columbus Foundation, created by local creative design firm TENFOLD. Dr. Bertley also received a "Jerrie," a bronze miniature of the Jerrie Mock sculpture at John Glenn Columbus International Airport, created by local artist Renate Fackler.
Mock, a Bexley mother of three, took off from Port Columbus on March 19, 1964. Those who witnessed her takeoff underestimated her abilities, with one airport operator noting, "Well, I guess that's the last we'll see of her." Mock safely landed her single-engine Cessna, "Spirit of Columbus," back in Columbus on April 17 after 29 days, 21 stops, and more than 23,000 miles.
Mock was named the first recipient of The Spirit of Columbus Award in 2013, along with Jeni Bauer and David Brown. Additional honorees include the late Denny Griffith, former Mayor Michael B. Coleman, Tanny Crane, Jane Grote Abell, Michelle Alexander, ten of Columbus' leading Black artists and creatives (Suzan Bradford Kounta, Queen Brooks, Richard Duarte Brown, William Evans, Corey Favor, Sheri Neale, Marshall Shorts, Cristyn Steward, Carnell Willoughby, and Scott Woods), those who contributed to the "Save the Crew" movement, Dr. Amy Acton, Roshelle Pate, and Joanna M. Pinkerton and the Central Ohio Transit Authority (COTA) team.
---
About The Columbus Foundation
The Columbus Foundation, one of the top 10 community foundations in the United States, serves thousands of individuals, families, and businesses that have created unique funds and planned gifts to make a difference in the lives of others through the most effective philanthropy possible.