COLUMBUS, OH (April 10, 2017)—On May 17, The Columbus Foundation will catalyze thousands of central Ohio residents to connect, talk, listen, learn, and be inspired at The Big Table. First launched in 2016, The Big Table provides an opportunity for central Ohio residents from all walks of life to host or attend conversations to build a strong and connected community.
"Every voice has value. The Columbus area is at its best when we discuss the issues that connect us as residents and as a region," said Foundation President and CEO Douglas F. Kridler. "Through thoughtful dialogue and commitment to our community, we can work to strengthen central Ohio together."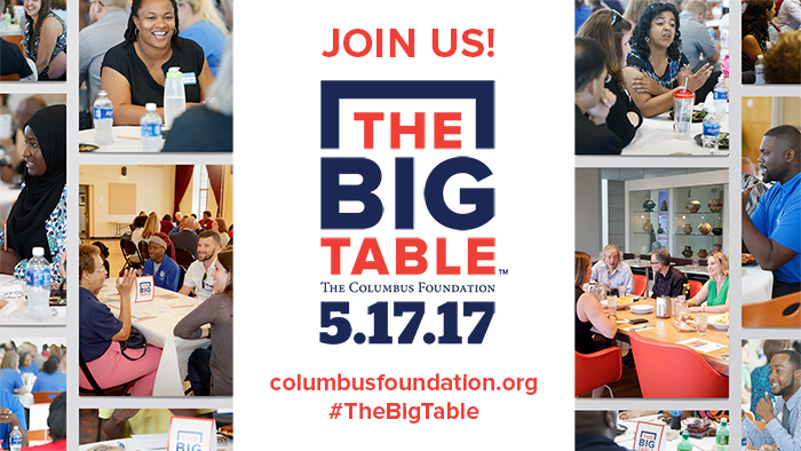 More than 5,000 people joined the first Big Table, and after overwhelmingly positive feedback and requests for another such event, this year's goal is to include even more voices. Each discussion group will have a registered host and eight to 12 participants. Through conversation, the Foundation aims to foster authentic human connection and civic engagement.
"The Big Table allows central Ohio residents to give back in a unique way," said Kelley Griesmer, Senior Vice President and Manager, Walter Family Philanthropy at The Columbus Foundation.
By taking the time to talk, listen and learn from each other, we build understanding, spread kindness, and share ways to positively impact the community we create together.

— Kelley Griesmer, Senior Vice President, The Columbus Foundation
Anyone can host a conversation, and host sites will be spread throughout central Ohio in homes, offices, schools, universities, places of worship, libraries, and businesses.
Those wishing to get involved in The Big Table can register to host a conversation at a location of their choice, host a conversation at one of our public partner locations, or join a public conversation. Hosts will have access to a toolkit—available for download—to help guide their discussions.
This year, at the end of each conversation, participants will be invited to commit to one way they will better the community, be it smiling at a stranger, writing a letter, or volunteering for a particular cause.
Supporting sponsors of The Big Table include the Columbus Metropolitan Library, Jeni's Splendid Ice Creams, Donatos Pizza, Hot Chicken Takeover, the United Way of Central Ohio, and Besa.
To learn more about The Big Table, visit www.columbusfoundation.org/thebigtable.
---
 About The Columbus Foundation
The Columbus Foundation is the trusted philanthropic advisor® to more than 2,500 individuals, families, businesses, and communities that have created unique funds and planned gifts to make a difference in the lives of others through the most effective philanthropy possible. More than 70 years strong, The Columbus Foundation ranks among the top ten community foundations in the United States. Visit columbusfoundation.org to learn more.