The 2023 Spirit of Columbus honoree is Dr. Frederic Bertley!
Every year on the anniversary of Jerrie Mock's historic flight around the world in her single-engine Cessna named Spirit of Columbus, the Foundation recognizes members of our community who, like Jerrie, exhibit bravery, boldness, and determination through their efforts and accomplishments.
Dr. Frederic Bertley was selected as the 2023 Spirit of Columbus honoree in recognition of his commitment to central Ohio in the areas of science literacy, education equity, and the workforce pipeline.
As President and CEO of COSI, Dr. Bertley's boundless creativity, unwavering resolve, and generous acts of service inspire youth and families throughout central Ohio to dream BIG. His leadership encourages young learners to be curious about STEM and has elevated COSI to national recognition.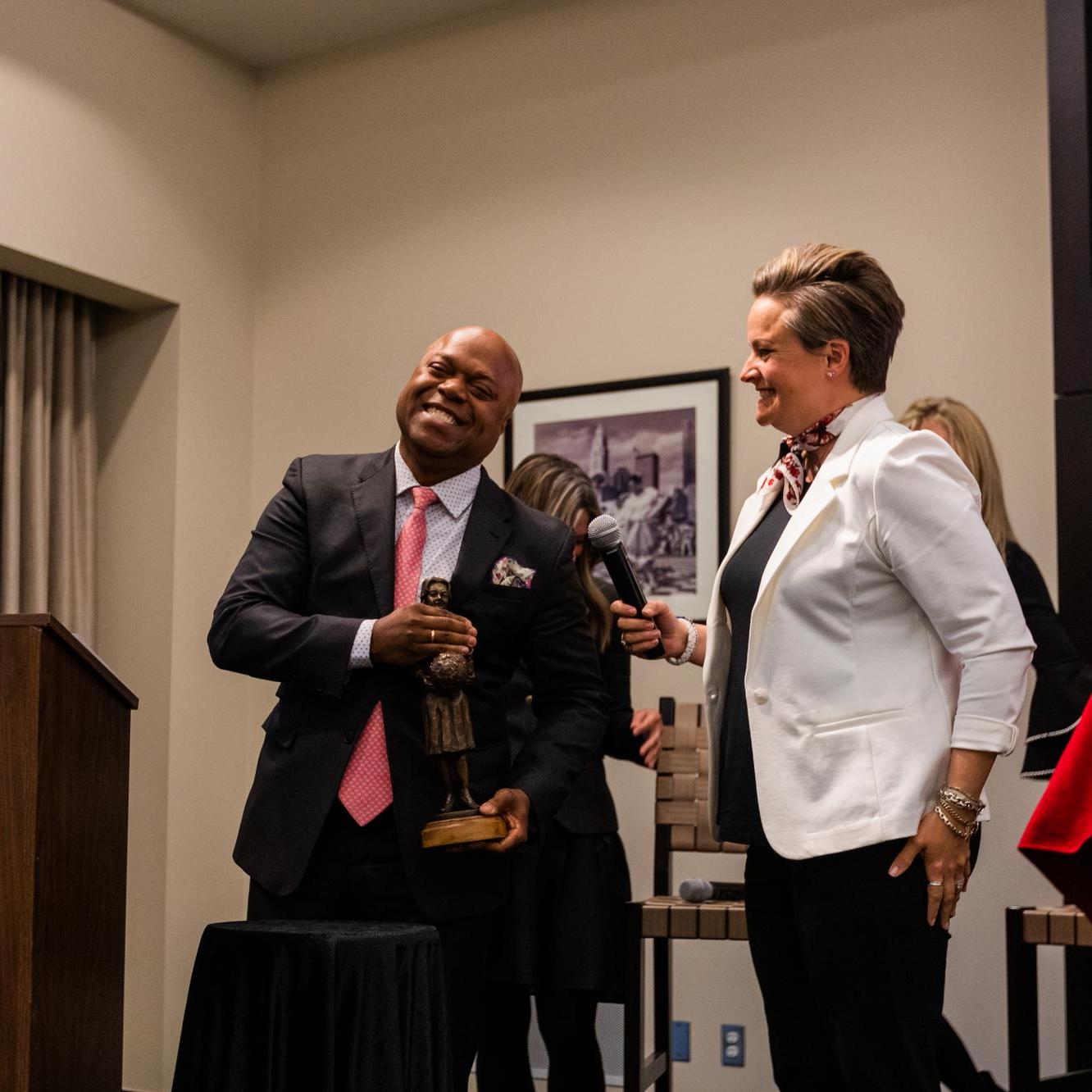 "Like Jerrie Mock, Dr. Bertley exemplifies community spirit, innovation, and leadership in action. His boundless creativity, unwavering resolve, and generous acts of service have inspired youth and families in our community and beyond to dream big about the future."

 

Douglas F. Kridler, President and CEO of The Columbus Foundation

Previous Spirit of Columbus Honorees
Jerrie Mock and the Spirit of Columbus
More than 50 years ago, Jerrie Mock became the first woman to fly around the globe solo. On March 19, 1964, Jerrie, then a Bexley resident and mother of three, climbed into her single-engine Cessna, "Spirit of Columbus," and took off from Port Columbus International Airport.

Mock's historic journey lasted 29 days as she flew more than 23,000 miles. Stops included Bermuda, Egypt, Libya, and Saudi Arabia where she was met with applause when the men realized she was unaccompanied.

Mock landed safely back at Port Columbus on April 17, 1964. President Lyndon Johnson presented Mock with the Federal Aviation Agency's Gold Medal for Exceptional Service on May 4, 1964.

Originally published in 1970, Mock detailed her flight and stories from around the world in her book, Three-Eight Charlie.

On April 17, 2014, fellow aviators, historians, community leaders, and friends gathered to celebrate the 50th anniversary, when a life-size bronze statue of Jerrie holding a globe, created by Columbus artist Renate Burgyan Fackler, was unveiled at Port Columbus International Airport.