Tim Morbitzer and Giancarlo Miranda share a passion for many things—among them, promoting the arts, supporting organizations that advance social justice, and giving back to their community. It is through these mutual interests that the couple of more than 20 years shape their philanthropy and the legacy they hope to leave behind.
"We are big believers in giving back. We've been very fortunate, and we don't take that for granted. The idea of giving back is paramount to us," said Morbitzer. "We are strong believers in improving the world we live in and making it better for everyone. Everybody is better off when we help the whole community."
Through the Morbitzer-Miranda Foundation, a Donor Advised Fund that the couple established in 2017 after being inspired by friends who had opened a fund at The Columbus Foundation, Morbitzer and Miranda have given generously to organizations serving the central Ohio region.
"It's important to make sure that the community where we live has a thriving arts community so that it can uplift and enrich others."

GIANCARLO MIRANDA
These organizations include the Human Rights Campaign Foundation, Equitas Health Inc., Planned Parenthood of Greater Ohio, the central Ohio chapter of the Leukemia & Lymphoma Society, Columbus Humane, Columbus Museum of Art, and Jazz Arts Group of Columbus.
Morbitzer, who grew up in Columbus, graduated with a bachelor's degree and a master's degree from The Ohio State University. One of 11 children, Morbitzer previously worked as the President of ABC Home Services, a family-owned business, until the company's sale in 2017.
Miranda, who grew up in El Salvador before moving to the United States for college, received his bachelor's degree from the University of Notre Dame and a master's degree from the Thunderbird School of Global Management at Arizona State University. After relocating for various job opportunities, Miranda eventually landed in Columbus, where he worked for JPMorgan Chase & Co. as Executive Director of Branch Branding.
Now retired and living in German Village, the couple enjoys staying busy, traveling, and volunteering. Both active members of the Wexner Center for the Arts, Morbitzer and Miranda also deeply value the important role arts and culture play in building a vibrant community and strongly believe that the arts should be accessible to all.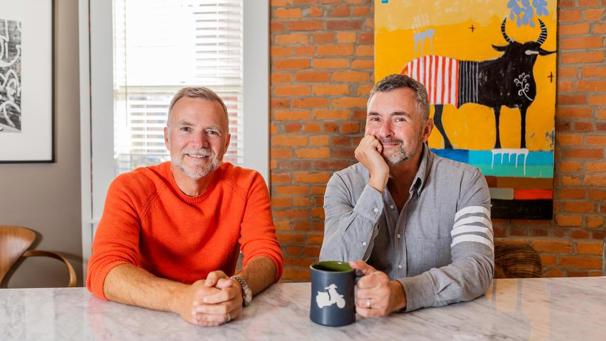 Pictured (l–r): Tim Morbitzer and Giancarlo Miranda at their home in German Village.
"The arts have really enriched our lives," explained Miranda. "We've been able to experience arts and cultures in different parts of the country and the world, and it's very uplifting. So, for us, it's important to make sure that the community where we live has a thriving arts community so that it can uplift and enrich others."
In recent years, the couple began asking themselves how they could not only maximize the impact of their charitable giving now, but also make it long-lasting. Not sure where to begin, Morbitzer and Miranda reached out to The Columbus Foundation to learn more about the different ways they could continue their charitable legacy after they've passed. Through these conversations, they made the decision earlier this year to name The Columbus Foundation as a beneficiary in their estate plans.
"The Columbus Foundation has been hugely helpful to us. Knowing that there were options and different ways that we could continue to make an impact after we're both gone was reassuring," said Miranda. "It gave us peace of mind that the things that are important to us will still be supported."
Working with their attorney, financial advisor, and The Columbus Foundation, Morbitzer and Miranda carefully developed their planned gift and entrusted The Columbus Foundation with grantmaking discretion after their deaths. As part of that plan, the couple elected to have their existing Donor Advised Fund—the Morbitzer-Miranda Foundation—become a Field of Interest Fund upon their deaths, with funds being distributed to organizations that promote social justice, the arts, and the welfare of dogs.
"As individuals who are very active and hands-on with their charitable giving, Tim and Giancarlo are thoughtful about the many cultural and community interests they support," said J. Bradley Britton, JD, LLM, Director of Planned Giving and General Counsel at The Columbus Foundation. "Through their generous giving and foresight to plan out the future of their fund, Tim and Giancarlo have mapped out a charitable plan that will benefit generations to come."
With the future of the fund now secured, Morbitzer and Miranda said they are able to breathe a sigh of relief—and they were surprised how simple and seamless the process was.
"At the end of the day, we have peace of mind. Now we know that when something happens—whether it's today, tomorrow, or somewhere down the road—we're taken care of," said Miranda.
"This is a reliable, trustworthy, proven way to establish a legacy. It was the obvious choice for us," added Morbitzer.